By Karanja A. Ajanaku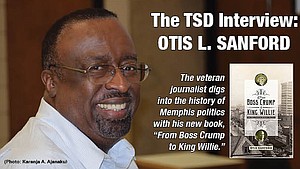 Veteran journalist Otis L. Sanford, who holds the Hardin Chair of Excellence in Journalism at the University of Memphis Department of Journalism, has completed his inaugural book: "From Boss Crump to King Willie: How Race Changed Memphis Politics."
My relationship with Sanford dates back 40 years. He became a reporter at The Commercial Appeal a few months ahead of me in 1977. Later, his career took him to the Pittsburgh Press and then to the Detroit Free Press before he returned to The CA, where he furthered distinguished himself as deputy managing editing and then managing editor.
Still a Sunday Viewpoint page contributor at The CA, many know Sanford for his commentary on WREG-TV. He worked three-plus years on the writing of this book, taking advantage of an opportunity to build on an idea that he started thinking about before he left The CA.
Asked by the University of Tennessee Press to submit a proposal, he did, getting the OK to go full speed ahead.
"I had it in my head for the last five, six, seven years that I wanted to try to connect the dots between Boss Crump and the election of Dr. Herenton, who I believe are the two most significant political figures in the history of Memphis. There's a story there about what connects them," Sanford said.
We met in Sanford's office and soon delved into a discussion of the title – "From Boss Crump to King Willie: How Race Changed Memphis Politics." Sanford said he was a bit hesitant about calling Dr. Herenton "King Willie. I didn't want him to get mad at me. …Well, in the end, he loves it….He embraced it….I didn't tell him initially what the title was. …I think I told him about a month or two ago. He said he was fine with it."
Karanja A. Ajanaku: Tell me about (the) interview (with Herenton).
Otis L. Sanford: The first and the longest interview that I had with Dr. Herenton was in December of 2014. …I didn't interview him right away. … let me lead up to that.
KAA: OK.
OLS: I knew I wanted to do it in chronological order. I started with everything that I could do research wise on Boss Crump. I knew that nobody (was alive) who really could tell me the story of Boss Crump from an eyewitness standpoint. …I was at the library all the time. They know me on a first-name basis over there….Wayne Dowdy over at the library helped me…That man was tremendous for me. I was actually writing chapters as I was going along in the book.
Sanford interviewed Dr. Herenton at Herenton's office in the Nonconnah Industrial Park. The conversation lasted two to three hours. Knowing that Herenton had plans to write his own book, Sanford made a point to stress that he wasn't writing "Dr. Herenton's story."
"This book is not any one person's complete story, but I'm hoping that it will be seen as the complete story of Memphis and Memphians," Sanford said. "And the people they put trust in politically to lead the city forward. The two most important individuals in the book are Boss Crump and Willie Herenton, but there are others who are in the book as well."
KAA: Did anything surprise you that (Dr. Herenton) said?
OLS: Well, maybe not surprised, but I was enlightened and he illuminated some things. … There were at least two incidents or two anecdotes that I used in the book…that I didn't know if they'd ever been published before. One was when he was in the running or up to be superintendent of schools, this was in 1978. …I thought I collectively remembered that whole situation, and I certainly remember the school board rejecting him and going with William Coats from Gross Pointe. …
Dr. Herenton told me about a private meeting that he had with (then school board member Frances Coe, in which she came to his office and sat down and told him the day of the meeting that she was going to have to go with William Coats….
The way Dr. Herenton explained it to me was (that) Dr. Herenton looked her in the eye just like this and let her speak, but she was sort of looking over, because it was not a proud moment for her….
KAA: Yes, yes. I remember that section.
OLS: Then he just said, "Well, Ms. Coe, you should do what you have to do." He got up and escorted her out. She was embarrassed I believe. …Then he left and went home to his mother, and his grandmother was still alive at that time, and he said, "I didn't get the job." His grandma said, "Willie, if God meant for you to have that job, you get that job." I think that was one of the most significant moments in the interview. ….
The other moment with Dr. Herenton, Sanford said, had to do with when he was running for mayor and "how he sort of strategically put (former Congressman) Harold Ford on the spot to tell him to come up with this leadership summit to pick our next mayor."
KAA: Is that when Mr. Ford came into the auditorium?
OLS: That's when he came in Clayborn Temple. He told me the details of that meeting. But you know, I got the backup for that part of the interview from the Tri-State Defender.
KAA: Is that right?
OLS: The Tri-State Defender covered that event …They said exactly what Dr. Herenton told me happened. Harold Ford came in late, sat in the back. He (Dr. Herenton) called him up to the front, challenged him to … You're our leader. It was just sort of putting him on the spot, and he (Ford) accepted the challenge. Then, of course, we know what all happened after that.
"He (Ford) was dragging around to do the leadership summit while Shep Wilbun, Vernon Ash, who was with the Tri-State Defender as well, I think, at some point; and Teddy Withers (the late state representative, they were doing the People's Convention. It was just that call out at Clayborn Temple that I didn't know about until he told me. So those are the two things that tell me that Dr. Herenton really wanted the story to be told.
KAA: I gotcha. .. .There's several things about the book, but just talk about the press for the moment. You got politics and you got race, but you make a point to weave the element of the press … and the role that (the press plays). Will you speak a little to that?
OLS: It is one of my dominant themes in the whole book, because I believe that the press, and I'm talking about the printed media in this town, historically has had a huge influence in how this city progresses and regresses. It didn't just start during the civil rights movement. The press has always had a huge influence on shaping opinion in this town, and, unfortunately, early on a lot of it was for the negative, especially the way African Americans were concerned.
I'm going back to the days of Ida B. Wells. I make reference in there to the People's Grocery incident and how Ida B. Wells was writing editorials and the free speech that really took the white community to task, and it just inflamed the newspaper editors in this town. …They incited the community. People like C.P.J. Mooney, Frank Ahlgren, those folks and the way they handled, especially on their editorial pages, they shape public opinion. Yes, the press and the power of the press is interwoven throughout this whole story. …
KAA: I see that. I had in my mind that you could sort of see the press as a person. So like other persons in the book, they're struggling with the whole concept of race and race relations. You can see that during various papers.… It's not just The Commercial Appeal… You can see that relative to the Tri-State Defender, too.
OLS: That's true, although the Tri-State Defender… and, again, this is just my impression …The Tri-State Defender has always tried to, especially editorially, respond to how things would impact and affect hopefully in a positive way the black community. They've always done that, I believe. When they made editorial decisions, it was based on that principle. I make a point in the book that in 1955 the Tri-State Defender endorsed Henry Loeb.
KAA: I saw that.
OLS: They didn't make a big to-do out of it, but he was just one of the people who were running for a city commission seat. They just said, "We endorse him because we think that he will be fair to the Negro." I think it's worth pointing out that the Tri-State Defender did that. Now, four years later, when he was running for mayor, they didn't endorse him. …
"They did see Loeb for what he eventually became, which was really no friend to African Americans. Yes, I think the Tri-State Defender sort of struggled a little bit, but I think for the most part they always did things trying to make sure that African Americans in this town at least got their fair share or not to being totally mistreated. Now they were, the Tri-State Defender, they were big supporters of Harold Ford. Big supporters. To them Harold could do no wrong."
NOTE: Part II of the conversation with professor – and now author – Otis L. Sanford picks up next week.