By TSD Newsroom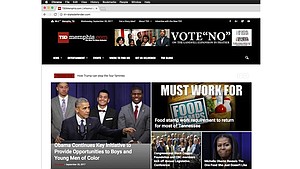 We're going away for a couple of days, but we will be right back on Monday.
TSDMemphis.com will be offline starting at 6 p.m., Saturday, Sept. 23. When we come back online Monday at 6 a.m., you'll be coming to a whole new TSDMemphis.com experience!
Not only will you see a sharp, sleek new homepage built on the popular WordPress platform, we wanted to make it easier than ever for you, the reader, to share news tips, tell us about upcoming events or send us photos of things going on in the Greater Memphis area.
"We are always looking for more ways to engage with our readers," said Bernal E. Smith II, TSD Publisher. "Aside from freshening up the look, this updated version of our site aims to make it easy to tell us your stories, to advertise with us and to connect with the people, places and events that make Memphis great."
This is the first phase of a three-phase rollout. Phase II will focus on an upgrade to our daily email communications.
"We're really examining how people use email in general, and how they use our email, in specific," said TSD Associate Editor Lee Eric Smith, a member of the development team. "We know people are bombarded with information all the time. So we really want to get better at understanding what our readers want and then deliver them email content that's customized for them."
Phase III will introduce a membership component designed to promote African American businesses, and much more.
"We know that our annual Best In Black Awards is all about shining a spotlight on our businesses and organizations," said Lee Eric Smith. "We want to take the next step: really becoming a vehicle for people to find these small businesses and help them prosper.
"We will be able to do MUCH more than that with our membership component, but that is a big part of it," Smith said.
Among the new features: an events calendar; forms to submit story ideas and photos; and a locator map where people can pick up a copy of the newspaper.
"Our site will continue to evolve as well," Smith said. "We're planning to add a jobs board, an improved classifieds section, and a shopping cart that enables people to buy advertising, sponsored content and more."
The team is also exploring the idea of offering sponsored webinars and podcasts, as well as empowering citizen-journalist "TSD Bloggers" to cover various neighborhoods and interests.
We'll see you Monday for the ALL NEW TSDMEMPHIS.COM!