By Lee Eric Smith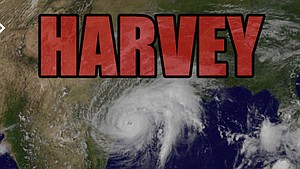 UPDATE:
The National Weather Service has issued flood alerts for much of Tennessee as Tropical Depression Harvey travels northeast.
The weather service issued a flood warning for areas along several rivers in West Tennessee while a flood watch included the whole region and stretched into Middle Tennessee.
Forecasters say heavy rain will begin on Thursday and some locations could get more than 10 inches, though most will get 4-8 inches. The say high winds from the storm could also produce tornadoes.
Harvey dumped nearly 52 inches of rain on Texas, where massive flooding has caused more than 30 deaths.
The Tennessee Emergency Management Agency says it is monitoring the storm and has staff prepared to deploy if necessary. In Memphis, crews are cleaning debris from storm drains and residents are being asked to clear gutters at their homes.
Here at TSDMemphis.com, we shared information Wednesday, from the Shelby County Office of Preparedness. This storm is too powerful to miss this information, so we're sharing it again:
• Know the Forecast: Have a NOAA all-hazards battery-powered radio and upload weather apps to mobile devices.
• Know the Terms:
-> Flood Watch: Be aware! Conditions are favorable for flooding to occur.
-> Flood Warning: Take action! Flooding is occurring or will occur soon. Seek higher ground!
• Home Preparedness: Create a digital home inventory. Disconnect electrical appliances. If needed, turn off water and gas ahead of time
• Have a Plan: Practice how to shelter-in-place or evacuate at a moment's notice. Know where higher ground is located in your neighborhood and in areas you frequent. Know two (2) alternative routes to and from home, work and school.
• Family Communications Plan: Program "in case of emergency" (ICE) phone numbers in cell phones. Have emergency phone number wallet cards for all family members. Designate an out-of-town relative everyone will call if they get separated.
• Disaster Kit: Have a portable kit with enough supplies to sustain you and your pets for seven days to include important documents, medication, food, water, flashlight, and tools.
• Flood Safety: Do not drive through flood waters. TURN AROUND, DON'T DROWN! As little as 6 inches of moving water can knock you down and 12 inches of moving water can float a vehicle. If flood waters surround your vehicle and the water is not moving, abandon the vehicle and seek higher ground. Do not leave the vehicle and enter moving water. Flood waters can be toxic – be sure to wash off any flood water immediately.
• National Flood Insurance Program: Visit www.floodsmart.gov to find out your flood risks and information on purchasing flood insurance.
For more information, check out www.fema.gov and www.nhc.noaa.gov