By Tony Jones, Special to The New Tri-State Defender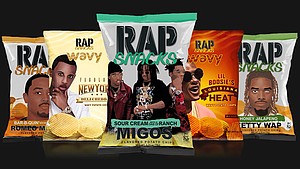 Maybe you've seen them – "The Official Snacks of Hip Hop." And here's the zing: each of the five flavors of chips is branded with the image of one of today's biggest selling rap stars.
Rap Snacks, based in Atlanta and African-American owned, is carving out a shelf-space niche in Memphis. The backside of the bags are stamped with social media triggers, letting purchasers download prizes, link to the featured artists and more.
With the multi-national (130-plus countries) Mentos mints featuring a rap salute in it's latest commercial, the marketing strength of hip-hop culture has yet another advocate
"People that see it (hip-hop marketing) as negative may not understand it, but sometimes the truth can set you free," Rap Snacks owner James Lindsay said. "A lot of these guys (rap stars) grew up too fast and they're telling about their experiences."
Rap Snacks is distributed by Brimhall Foods, readily familiar as Brim's snacks. Memphis, Linday said, has been a great market for the product."
But this is not an overnight success story.
"It's a 20-year-old brand," Lindsay said. "At the time, the rap industry was just really coming on and what goes better together than music and snacks? My background is in sales and marketing. I started researching it and here we are today. We're distributed throughout the country, except the west coast."
Lindsay began with Philadelphia-born hip-hop recording artist Meek Mill (Robert Rihmeek Williams) "building his brand, creating business opportunities. I helped him, but he helped me to learn more about the (entertainment) industry."
Castle Retail Group owner Rick James, which owns four Cash Saver stores in Memphis said, Rap Snacks "sell very, very well in our stores. There are thousands of new item introductions every year, and we accept very few. Just since January we have sold over 20,000 packages of Rap Snacks. That's huge, especially for a non-advertised product.
"Word of mouth is really what drives success in our business and I think that's really how this brand has exploded," James said. "Traditionally, because we're in the south, we do very well with snacks that are very flavorful. A plain potato chip just generally just doesn't do it. We're really excited about it."
James also provided a glimpse inside the grocery business.
"They have a package that draws attention. I remember the first time I saw the package in our store. I was in our Whitehaven store and it caught my eye. It was placed as an end-cap product (end of the aisle). And it's been very important because the African-American market is so important to our business."
The African-American market mostly is based inside the city and it features a family reflection, James said.
"They (African Americans) still eat meals around the family table. They cook from ingredients; they start from scratch. For a grocer that's terrific because that means more of their disposable food budget goes to meals versus restaurants. The African-American customer has been a great customer for us. They tell their friends and church members."
Lindsay said he is incorporating an outreach toward healthier foods.
"I have some healthier concepts we are going after. I want to be a trendsetter, creating entrepreneurs. Like the artists, they're partners in the business," he said.
"And even the drivers, they can make a good living selling snack foods. I want to create a training program in this market that will help inner city kids to learn more about this business."