By Montee Lopez, Special to The New Tri-State Defender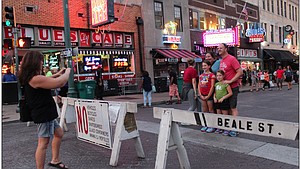 With the unanimous consent of those voting, the Memphis City Council has ended the life of the Beale Street Tourism Development Authority (BSTDA).
Council members – with District 5's representative, Edmund For Jr., recusing himself – embraced a resolution on Tuesday that was first introduced at a council committee meeting in March. Ford is a non-voting member of the BSTDA.
Created in 2015 under the tenure of former Mayor AC Wharton Jr., the 13-member BSTDA was authorized to design and maintain the attractiveness of the Beale Street Entertainment District while also seeking proper management.
The Downtown Memphis Commission now controls the entertainment district on an interim basis. The responsibility of selecting new management of the district is now in the hands of the City of Memphis.
Tuesday's resolution, sponsored by Councilman Martavius Jones and Councilwoman Patrice Robinson, reflected the Council's conclusion that BSTDA had failed.
"They didn't do what they set out to do," Jones said, pointing out that BSTDA had two years to find management for the street. He linked the absence of a manager to the possibility that BSTDA had unrealistic goals.
"I think they went in with the expectation a national group would come in and pitch a proposal to manage the street," Jones said.
The Beale Street Entertainment District isn't big enough to attract a national managing company, said Jones, who associated the matter with what he sees as the council erroneously doling out powers and responsibilities they should retain.
"In the time I've been on the council, what I've found … is the council (has) delegated its authority to committees not accountable to taxpayers," Jones said. "That reduces transparency."
The elimination of the BSTDA is a step towards the restoration of transparency, he said.
Meanwhile, several pending lawsuits loom that could affect the future of the entertainment district and the connectivity of the Beale Street Merchants Association, The Beale Street Historic Development Corporation, the Downtown Memphis Commission, and other entities.
The timetable for selecting a permanent manager for the district is uncertain, but Ken Taylor with the Beale Street Merchants Association said the longer Beale Street district goes without management, the more money it loses.
"The longer we hold on finding a manager for the street, the more potential investments we lose," Taylor said, noting the potential of less income being generated from Africa in April and the Beale Street Music Festival – two big moneymakers with upcoming festival activities.
Both Taylor and Jones want the same thing – positive and constantly improvement of Memphis's most memorable tourist attraction.
"I want a management group who can continue to uphold the image and historic values of Beale Street."
The New Tri-State Defender reached out to Mayor Jim Strickland concerning comments on finding management for the street. We are still awaiting a response.