By Joy Doss, Special to The New Tri-State Defender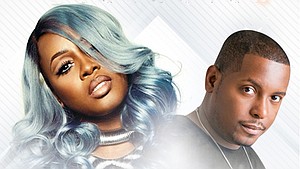 In advance of the upcoming Society Memphis concert on April 22, I jumped at the chance to do a Q&A with "Love and Hip Hop" co-star DJ Self, who – in case you didn't know –rocks the airwaves in New York City as a radio personality on Power 105.1
Billed as "The Elite Party Experience," Society Memphis will unfold at the New Daisy Theatre at 330 Beale St. The headliner is "Love and Hip Hop (LHHNY)" star Remy Ma.
Admittedly, I am not an avid watcher of reality TV, but I AM a fan of Remy since the MOP and early Terror Squad days. And all respect her for DJ Self as he is a Ft. Greene, Brooklyn native (my old hood) and was the long-time tour DJ for the Mighty Mos (Def), who now is Yasiin Bey and still repping BK hard.
Folks from BK and folks from Memphis are similar in that way. We rep our areas to the absolute fullest! Trust me, when I was in Brooklyn, and even when I'm there now, I repped the M loudly and proudly. And I still keep a piece of Brooklyn with me always.
All of that to say, it was an honor to chat with DJ Self and to host him in our city! Really looking forward to that show. This is the apex of hip-hop, with two of the hottest in the game right now.
Moreover, Society events are more of an experience. You'll see what I mean and you'll see first-hand, if you come. The VIP lounge has hors d'oeuvres, open bar by Effen Vodka and I hear-tell some other surprise amenities. I will be in the building for sure! This girl loves a fly and fab event experience. And the tickets aren't bananas.
In the meantime, here's a little bit about our guy Self.
Joy Doss: You know we call Chicago "Up South" because most people have roots in Memphis and/or Mississippi somewhere. Do you have people here in Memphis? Have you been to Memphis before?
DJ Self: I don't have any family in Memphis. This is my first time to the city. And I am excited to see what the great people of Memphis bring!
JD: You just had a sold-out show in Chicago; the crowd was massive. What was that like for you given that some of your people are in the city and I assume in the building?
Self: The House of Blues in Chicago was a great experience for me. To see a sold-out club for which mostly everyone there came to see me DJ was a humbling experience. My aunt and cousins came through to support me while I was in Chicago and that also made the experience a more memorable one.
JD: What has been your favorite gig? Or favorite spot (in terms of DJ'ing)?
Self: I've had so many favorite and memorable gigs it's really hard to name just one. My favorite spot is anywhere the people are rocking with me. DJs naturally vibe off of the energy of the people and the atmosphere.
JD: What's the party anthem right now? What do you have in regular rotation on your own playlist?
Self: "Mask Off" by Future. My rotation changes daily. Sometimes I'm into slow jams; sometimes I'm into trap music; sometimes I'm into rock and roll. I love music. My catalog is endless and depending on the day and my mood, I can listen to anything.
(Layers! Nice!)
JD: What's the best part about being featured on LHHNY?
Self: "Love & Hip Hop New York" is a gift and a curse. What I mean by that is more people become aware of who you are as an entertainer or DJ, but then again more people are able to criticize you and think they know everything about you based on what they see on TV. I'm appreciative for the opportunity to be on the show and I take it in stride.
(Totally see that dual perspective. Living in a fishbowl can't be easy.)
JD: What should we expect from a Remy Ma-Self show?
Self: Remy Ma will bring Remy. Pure heat!!! DJ Self will bring a memorable event.
(Aw yeah! This is a can't-miss event! Catch this fiyah!)
NOTES: For Tickets, visit SocietyMemphis.Eventbritecom.