By Lee Eric Smith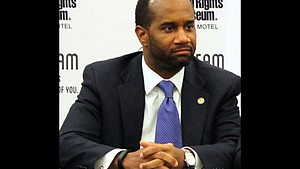 In a statement released Wednesday at noon, U.S. Attorney Edward L. Stanton III announced his resignation, effective Feb. 28.
"Nearly six and a half years ago I was provided the professional honor of a lifetime," Stanton said in the statement. "To be able to serve the district where I was born, raised and educated, and for which I have tremendous love and respect, was a remarkable experience."
Stanton vacates a post he's held since August of 2010, when then-President Barack Obama nominated him to serve the Western District of Tennessee.
Among Stanton's accomplishments as U.S. Attorney was the creation of a dedicated Civil Rights Unit in 2011. The unit is responsible for prosecuting individuals who commit federal civil rights crimes including human trafficking, law enforcement corruption, excessive force, official misconduct, hate crimes, predatory lending, unfair housing and Americans with Disabilities Act (ADA) violations.
Last fall, however, some Memphians were disappointed when Stanton announced that there was "insufficient evidence" to prosecute former Memphis police officer Connor Schilling, who fatally shot Darrius Stewart in 2015 during a traffic stop. Schilling is white; Stewart was African American.
In October, Memphis Mayor Jim Strickland and Police Director Michael Rallings announced that MPD had invited the Department of Justice to review police procedures, in an effort to improve. Officials were expected to announce the findings later this spring. As of this posting, it was unclear how Stanton's resignation will affect that process.
President Donald Trump, who announced his selection for the Supreme Court earlier this week, will also nominate Stanton's successor. From there, the Trump nominee would need to be confirmed by the U.S. Senate.
Stanton, a native Memphian, is a graduate of Central High School, the University of Memphis and the University of Memphis Law School. Prior to serving as U.S. Attorney, he served as Senior Counsel with Federal Express Corporation. He also served as an Assistant City Attorney for the City of Memphis and in private practice with two Memphis law firms.
The statement from Stanton's office made no mention of Stanton's specific plans, however he indicated he still plans to be involved.
"I am tremendously grateful to President Obama, Senators Lamar Alexander and Bob Corker and Congressman Steve Cohen for placing their trust in me," Stanton said. "I am proud of the work we have accomplished in and out of the courtroom, including building meaningful bonds of trust with the community we serve.
"As I step away from this esteemed post, I remain committed to being actively engaged in serving our great community," Stanton said.