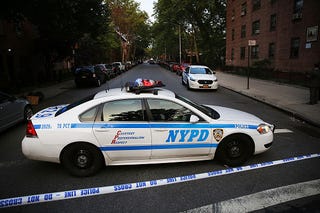 And for those who think that police brutality is a new thing because of video evidence, think again.
On March 31, 1989, a Brooklyn man was shot and paralyzed by a cop's bullet. He recently died and authorities have now ruled his death a homicide.
Brian Evans, 46, died of kidney failure on July 11, but an autopsy revealed that his health complications stemmed from the gunshot blast to the back he suffered more than 28 years ago, according to the New York Daily News.
An off-duty cop fired the shot during an altercation with Evans, leaving him paralyzed from the waist down.
Evans' ex-wife, Theresa Johnson, provided some detail about the fateful night in Brownsville, Brooklyn. Johnson said Evans told her the shooting stemmed from a street fight.
"He got into an altercation, he didn't know that (it was an off-duty cop)," she said to the News. "He said he had an argument with somebody, he threatened the guy, and then he went to turn (when he got shot). The off-duty cop was telling him to stop."
Johnson says she was "floored" by the news that the city medical examiner's office had ruled his death a homicide. "I literally was sobbing to myself."
"The death certificate said homicide," she said. "I was like, 'Homicide? What does homicide have to do with his organs being shut down?' "
A few years before his death, doctors had to amputate one of Evans' legs after he developed an infection.
"He wasn't a sick man until we just found out about his kidneys," Johnson said. "But they never said it was due to the gunshot wound."
The medical examiner notified the NYPD of its findings, but no arrests were expected, a police source said.
Read more at the New York Daily News.