By theGrio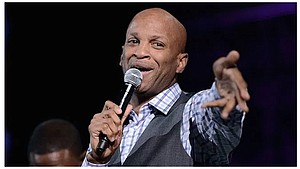 Pastor Donnie McClurkin believes that Christians should not be protesting against Donald Trump.
"We need to know what our vote really means and how to utilize it. But I don't want us to get caught up in this protest," McClurkin insisted on Get Up! Mornings With Erica Campbell. "The protests do nothing but rile [people] up. It causes people's anger to rise up and it gives us a false sense of involvement."
Campbell disagreed, speaking in favor of protests and the change they can bring about.
"It stops their progress. It makes the police have to respond and they have to spend money, they have to clear the streets and they have to organize," she said. "So it makes them pay a little more attention…"
McClurkin disagreed, however. He said that he did not vote for Trump because of his "lack of policy, misogynistic ideals, [and] racism," but he still insisted that protesting was not the way to go.
"Now is our time to pray for him. This is the job of the church," he said. "Let the world protest but the job of the church now is to go into prayer and pray that, number one, he succeeds, because if he fails, we have to deal with the consequences as a nation."