By Associated Press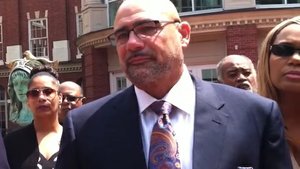 KNOXVILLE — State Rep. Joe Armstrong was convicted of tax fraud Monday after failing to declare a windfall of more than $300,000 he made buying and then reselling cigarette tax stamps after voting to hike their price.
The Tennessee lawmaker from Knox County faces up to three years in prison, a fine of up to $250,000 and restitution on the single felony fraud conviction, according the U.S. attorney's office. The veteran Democrat was acquitted of tax evasion and conspiracy charges.
Armstrong's sentencing is scheduled for Nov. 30.
The Tennessee Secretary of State's Office said the conviction disqualifies Armstrong from appearing on the November ballot. The state Democratic Party will have until 40 days before the election to nominate a replacement.
Prosecutors accused Armstrong of conspiring with his accountant to hide the transactions, made before and after the 2007 cigarette tax hike that the lawmaker had advocated and voted for.
Armstrong, a past president of the National Black Caucus of State Legislators, testified Friday that he had been swindled by his accountant, Charles Stivers, who testified for the prosecution after pleading guilty to a related fraud charge.
"Mr. Stivers was my tax attorney," the Knoxville News Sentinel quoted Armstrong as testifying. "I believed in him. I'm telling you, I relied on Mr. Stivers."
The Tennessee Black Caucus of State Legislators expressed disappointment in the verdict in a release. "The Caucus wants to state its support for Rep. Armstrong and his family and to publicly thank him for his almost 30 years of distinguished service to the people of his district," the statement read.
Caucus Chair Brenda Gilmore of Nashville said, "Joe Armstrong was a tireless warrior for the disenfranchised of this state and his experience will be missed in the Tennessee General Assembly."
As chairman of the House Health Committee in 2007, Armstrong hit the road in support of an initiative by then-Gov. Phil Bredesen, a fellow Democrat, to more than triple the state's cigarette tax, to 62 cents per pack. The tax hike "should have been a dollar," he said at the time.
The indictment said Armstrong set out to line his own pockets by borrowing money to buy tax stamps at the old rate and then re-selling them for a profit after the tax hike went into effect. But Armstrong sought to hide the transaction from public view because "he couldn't be seen to be getting money from Big Tobacco," Assistant U.S. Attorney Frank Dale told the jury.
Armstrong not only failed to pay taxes on the windfall — he didn't disclose the earnings as required in state ethics reports. Armstrong called that omission an oversight, saying he wasn't familiar with new requirements that followed the FBI's 2005 Tennessee Waltz bribery sting, which led to the convictions of five former state lawmakers.
Armstrong also denied that it was unethical for him to make money off the cigarette tax hike, which was aimed at boosting education funding and curbing smoking.
"You've got people in the Legislature from all walks of life," Armstrong said from the witness stand. "The General Assembly touches every aspect of our lives."
Armstrong's attorney, Gregory Isaacs, stressed that it wasn't illegal for Armstrong to profit from the tax stamps, and said he had every intention of paying his taxes. The lawyer argued that the 15 percent fee Stivers said he charged Armstrong to conceal the earnings would have covered the capital gains taxes owed.
The trial began with the exclusion of the lone African-American potential juror over what prosecutors called "race-neutral reasons." Isaacs had argued that Armstrong, who is black, deserved a jury of his peers, and said there was no legitimate reason to exclude the juror.
District Judge Thomas W. Phillips sided with the prosecution, saying the 68-year-old retired caregiver had been "disengaged" during jury selection and could have had difficulty following a complex tax case.
Armstrong became Knox County's youngest commissioner in 1982, and was first elected to the state House in 1988, becoming one of three lawmakers tied as the chamber's longest-serving members.
Republican leaders had been circulating a petition to call a special legislative session to oust Armstrong along with state Republican Rep. Jeremy Durham, the subject of an attorney general's report on allegations of improper sexual contact with 22 women. But the petition fell well short of the signatures needed before a Friday deadline.
(This story includes a report by the TSD Newsroom)