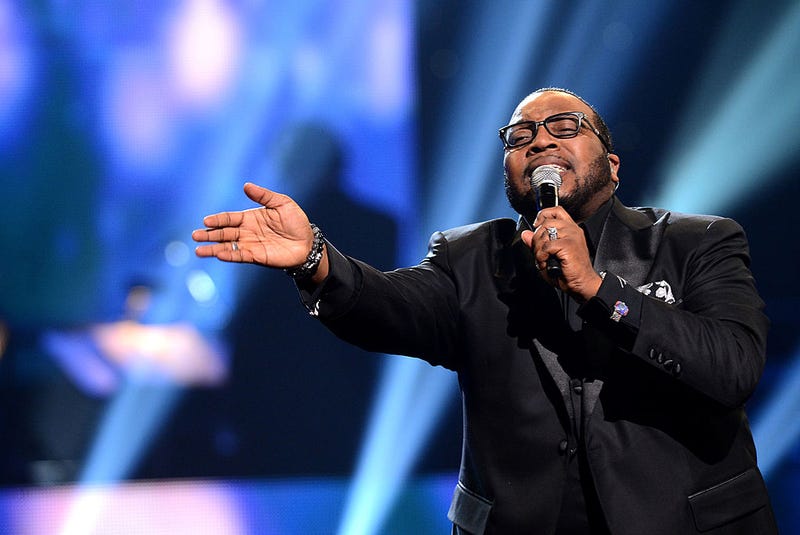 Marvin Sapp is more than a preacher who sings or a singer who preaches. Both singing and preaching represent spiritual experiences for him. On Sunday's episode of TV One's Unsung, he and family members outline his personal story—a fully lived story with high highs and particularly low lows—which provides insight into his inspiration for his religious and musical paths.
Sapp was born in Grand Rapids, Mich., the birthplace of celebrities like boxer Floyd Mayweather and soul singer Al Green, and the second-largest city in the state of Michigan. "Everybody else left," Sapp says, laughing, during an interview with The Root. "But I stayed." He is the founder and serves as the pastor of Lighthouse Full Life Center Church in Grand Rapids.
As a child he watched his father sing in the church choir and was enamored and mesmerized by him.
"My father would start off singing low and soft, and then he would hit this falsetto and the people would start screaming. Brothers would be falling out," he says. "My mom had my little brother and my older brother, and they always sat with her because my little brother was a baby, so I sat with Daddy up in the choir stand with the male chorus. It just amazed me." b
Sapp's close proximity to the chorus would lead him into a calling.
"One day while he was singing, I stood next to him and started singing with him and he looked down and put the mic to my mouth and I was in key and the rest is history," he says. "I've been doing it since I was 4."
His mother made sure he and his siblings stayed in line, acting as the "enforcer" in her house and around the neighborhood.
"There were guys down the street from us that were pimps. They would beat women, and my mother would go across the street with her broom and terry cloth robe, cigarette hanging out her mouth, big ol' rollers … we were so embarrassed," he says, laughing. "It was the funniest thing on the planet. She would cuss them out, like, 'You ain't whipping hos in front of my house!' They would be like, 'We're sorry, Mrs. Sapp!'"
When his parents divorced when he was 9 years old, Sapp says, his whole world seemed to come undone, and he went through a rebellious period that lasted through much of his teens and included experimenting with hard drugs, alcohol and marijuana. He suffered from epilepsy and eventually decided to forgo the drugs the doctor gave him to keep it at bay and instead pray for a recovery. His prayers worked. He says he hasn't used drugs or had a seizure in 30 years.
Fred Hammond tapped Sapp to be in the group Commissioned, which jump-started his musical career. He ended up marrying his best friend, MaLinda Sapp, who had gone to grade school, junior high and high school with him. They even went to the prom together on a double date, but never dated each other.
"MaLinda was the only person outside of God that I trusted," Marvin Sapp says. "She was my best friend, so she knew my secrets, we had conversations, we did projects together. After we married, I would tell her things I wanted to do; she would conceive it and help me birth it."
When he got heavy into the music business, MaLinda was the only person he trusted as his manager. Even though she had her own career as a college professor, she managed his career, negotiating contracts, dealing with lawyers, executive-producing and editing videos, whatever was necessary.
She is the reason his biggest hit, "Never Should Have Made It," ever made it into the public sphere. After Marvin's father's death, Marvin was devastated and trying to reconcile death. The Sunday after he buried his father, he was about to give a sermon when he fell apart. He sat in the pulpit in tears.
Usually he would close his praise and worship session with an up-tempo song he wrote called, "I'll Praise You." But instead he started singing impromptu. The words that came out were about his father: "I never would have made it, I would have lost my mind. Now I have seen how you've been there for me and I'll be stronger. Wiser. Better." He sang it at both services, and the congregation was swept up in the moment. He didn't get a chance to preach at either service.
Later, he had no intentions of recording it, but his wife insisted. "She nagged, nagged, nagged me," he remembers. "The night before I recorded my live record, Thirsty, I decided to put it in a medley of songs, just to appease her."
The song ended up being the No. 1 song for 47 straight weeks and is the longest-running No. 1 single in the history of the music business, across all musical genres, says Sapp.
When MaLinda Sapp was diagnosed with stage 4 colon cancer in 2009, Marvin Sapp did everything he could to save her, flying back and forth to Anderson Cancer Center in Houston, one of the best cancer centers in the world. When she died, he raised their three children—two girls who were preteens and a teenage boy—on his own. "I made the decision to focus on them, rather than focusing on my own personal life," he says. "I was 43 years old. I said, 'I am gonna focus on them for the next seven years and when my baby girl turns 18, I'll be 50 and still young enough to start over.'"
Getting to the point where he wanted to live his best life after MaLinda's death didn't come easily. The lyrics that he sings in the song "My Testimony"—"When you see me cry/it's a sign that I'm still alive"—gives some insight into his journey toward acceptance. "Those tears that come down my face are literally just a sign that I'm still living," he says about the meaning of the song. "That which was supposed to destroy me didn't kill me because I'm still here."
Sapp says he remembers having a conversation with his wife before she died where she told him she couldn't have asked for a better husband. "She told me, 'Marvin, you can give me one last gift.' I said, 'What is that?' She said, 'Promise me that you'll live.'"
"When people die, those people that are left here feel like the way to honor their legacy is to stop living," Sapp continues. "They want you to live. That's what I tried to do through my children first. Now that they are college students and my main goal is to take care of college tuition, it's time for me to find Marvin again. I'm looking forward to it."
TV One's Unsung airs at 10 p.m. ET/9 p.m. CT on Sundays.