By Laura Faith Kebede, Chalkbeat Tennessee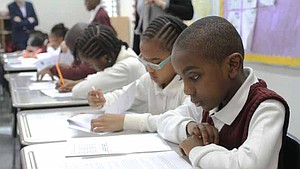 More than half of Memphis schools received the lowest possible score for student growth on Tennessee's new test last school year, according to data obtained by Chalkbeat for Shelby County Schools.
On a scale of 1 to 5, with 1 being the lowest measure, about 54 percent of the district's 187 schools scored in the bottom rung of the Tennessee Value-Added Assessment System, known as TVAAS.
That includes most schools in the Innovation Zone, a reversal after years of showing high growth in the district's prized turnaround program.
Charter schools fared poorly as well, as did schools that were deemed among the state's fastest-improving in 2015.
Superintendent Dorsey Hopson called the scores a "huge wakeup call."
"It shows that we've got a tremendous amount of work to do," Hopson told Chalkbeat on Monday. "It's going to be hard and it's going to be frustrating. … It starts with making sure we're supporting teachers around mastering the new standards."
District leaders across Tennessee have been trying to wrap their heads around the latest growth scores since receiving the data in late August from the State Department of Education. Only two years earlier, the Memphis district garnered the highest possible overall growth score. But since then, the state has switched to a harder test called TNReady that is aligned for the first time to more rigorous academic standards.
TVAAS results are scheduled to be released publicly this week, but Chalkbeat obtained a copy being circulated within Shelby County Schools, Tennessee's largest district.
The data is prompting questions from some Memphis educators — and assurances from state officials — over the validity of TVAAS, the state's system for measuring learning and judging the effectiveness of its teachers and schools.
This is the first year of issuing district-wide TVAAS scores since 2015. That's because of the state's cancellation of 2016 testing for grades 3-8 due mostly to failures in the switch to online testing.
You rely on Chalkbeat, and we rely on you. Here's how to support our nonprofit journalism.
Some educators wonder whether the bumpy switch to TNReady is a factor in this year's nosedive, along with changes in how the scores are calculated.
For example, data for fourth-graders is missing since there is no prior state testing in third grade for comparison. Elementary and middle schools also don't have growth scores for social studies, since the 2017 questions were a trial run and the results don't count toward a school's score.
Hopson acknowledged concerns over how the state compares results from "two very different tests which clearly are apples and oranges," but he added that the district won't use that as an excuse.
"Notwithstanding those questions, it's the system upon which we're evaluated on and judged," he said.
State officials stand by TVAAS. They say drops in proficiency rates resulting from a harder test have no impact on the ability of teachers, schools and districts to earn strong TVAAS scores, since all students are experiencing the same change.
"Because TVAAS always looks at relative growth from year to year, not absolute test scores, it can be stable through transitions," said Sara Gast, a spokeswoman for the State Department of Education.
Shelby County Schools is not the only district with disappointing TVAAS results. In Chattanooga, Hamilton County Schools logged low growth scores. But Gast said that more districts earned average or high growth scores of 3, 4 or 5 last school year than happened in 2015.
Want to help us understand this issue? Send your observations to [email protected]
Below is a breakdown of Shelby County's TVAAS scores. A link to a school-by-school list of scores is at the bottom of this story.
Districtwide
School-wide scores are a combination of growth in each tested subject: literacy, math, science and social studies.
Education news. In your inbox. Sign up for our email newsletter
Fifty three schools saw high growth in literacy, an area where Shelby County Schools has doubled down, especially in early grades. And 51 schools saw high growth in math.
Note: A TVAAS score of 3 represents average growth for a student in one school year. A score of 1 represents significantly lower academic growth compared to peers across the state.
Click here for more on story