By Paula Anderson, Special to The New Tri-State Defender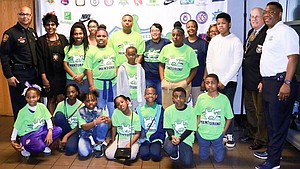 The collaborators powering a new Memphis-area nonprofit don't dispute that there is a gap between law enforcement officers and the communities that those officers serve.
They just think they can do something about the divide.
The Police Activities League (PAL) of Memphis and Shelby County is a 501 (c) (3) nonprofit organization formed to create learning opportunities and extracurricular activities for youth in various neighborhoods.
Last Thursday (March 9), the Memphis Police Department (MPD) launched the new initiative, which is focused on youth from 5 to 18 years of age, with a grand opening at the Memphis Police Training Academy, 4371 O K Robertson Road.
"Starting a Police Activities League is one of the biggest steps we can take today to build a better tomorrow," MPD Director Michael Rallings said. "This program allows us to invest more resources in community, not crime."
A press-release pitch declares that PAL programs help develop positive attitudes towards the law by bringing youth under the constructive influence of dedicated law enforcement officers who serve as coaches, referees and mentors.
Collaborations have been formed with other organizations to address many of the multiple issues that affect youth, including gun violence, drugs and sex.
"Our partnership with Youth Villages and Blue Communities brings much needed enrichment, discovery and educational services to our Police Activities League," said Sgt. Craig Littles, chief visionary officer. "This partnership provides quality academic, service and leadership opportunities outside of our sports programs that help kids succeed in school and in life."
Activities include football, cheer, baseball/softball, track, basketball and boxing. Additionally, there will be academic tutoring and leadership development programs.
"This program takes the necessary steps to bridge the gap between law enforcement officers and the communities we serve," Littles said.
Ten officers will be assigned as full-time Precinct Liaisons to engage neighborhood children and families with PAL programs.
The following precincts are designated PAL locations :
Old Allen Station, 3633 Old Allen Rd.
Appling Farms Station, 6850 Appling Farms Parkway.
Airways Station, 2234 Truitt St.
Crump Station, 949 E. E.H. Crump Blvd.
Ridgeway Station (Hickory Hill), 3840 Ridgeway Rd.
Tillman Station, 426 Tillman St.
To learn more about PAL, go to MemphisShelbyPAL.org or visit any of the precinct locations.
(Paula Anderson can be reached via [email protected].)