By Laura Faith Kebede, Chalkbeat Tennessee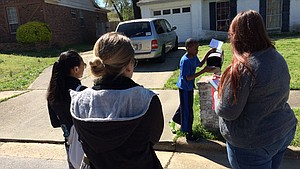 The sharing of student information is at the center of the latest squabble between Shelby County Schools and state-authorized charter schools — making it more important than ever for Memphis parents to know what's at stake.
Charter operators want the data so they can notify families about their options and recruit students to their schools. But local district leaders don't want to share their students' names, addresses, and phone numbers. One board member called the effort "predatory" tactics to take students away from Shelby County Schools.
This week, state officials stepped in and sided with charter operators. Based on a sweeping charter law that went into effect in July, Education Commissioner Candice McQueen ordered Superintendent Dorsey Hopson to cooperate.
For Beverly Davis, who heads a parent-teacher organization for several schools in Whitehaven, the prospect of charter operators canvassing her neighborhood is exasperating.
"It's like a bill collector calling and you have no choice but to take their call," she said. "We should be able to refuse a call from (charter operators). We already know they're here. They're on every corner."
Danny Song sees it differently. The leader of Believe Memphis Academy, a charter school opening in 2018, he says families should be able to learn about all the schools available to them.
"It's about equal access," he said. "Prior to this law, we kind of had to guess where our students live."
Here's what you should know about student information laws and policies — and why it's important:
Some student information is accessible by the public.
Known as "student directory information," this basic data can be published by school districts without a parent's permission. Anyone can ask for and receive it under the federal student privacy law known as the Family Educational Rights and Privacy Act, or FERPA. It's often used for lists like graduation programs, sports rosters or honor rolls. Vendors also can obtain this info to offer products and services such as class rings or yearbooks.
This is the information that Tennessee charter schools have sought to canvass neighborhoods and recruit students — and that Shelby County Schools has refused to provide.
For Shelby County Schools, student directory information is defined as:
name
address and email
phone number
date and place of birth
major field of study
participation in officially recognized activities and sports
weight and height of members of athletic teams
date of attendance
degrees and awards received
most recent previous school district or institution attended
A lot of information is not publicly accessible.
That includes grades, transcripts, student course schedules, health records, student discipline files, class lists, and education plans for students with disabilities. Only "need-to-know" people such as teachers, parents and administrators have regular access to this kind of information.
Sometimes, however, local school districts grant access to government agencies, researchers, school accreditors or juvenile justice officials. Such entities must agree to the district's policies for protecting student privacy.
The current debate is over student directory information.
California-based Green Dot Public Schools, a charter operator with five Memphis schools, asked Shelby County Schools in July for some student directory information, which already is public under federal law.
Shelby County Schools refused Green Dot's request earlier this month. District leaders said the new state law only applies to its own district-authorized charter schools, not to state-run charter schools like Green Dot's.
(The local district's first refusal to provide student data to the state-run Achievement School District in 2015 was also for student directory information.)
Feeling queasy? You can opt out.
Shelby County Schools is required to send a notice to parents at the beginning of each school year about how student information is used. Parents have the option to leave their contact information out of the student directory, or other such lists.
Or, you can write a letter requesting that your student's directory information remain private. Write to either of the addresses below:
Shelby County Schools
Student Records Department
160 S. Hollywood St.
Memphis, TN 38112
Shelby County Schools
Department of Attendance and Discipline
Shelby County Schools
2800 Grays Creek, Arlington, TN 38002